Online trauma therapy removes the effects of trauma for good
Welcome to The Liverpool Psychotherapy Practice. We are now 100% online using Zoom. Wherever you are based, my unique therapy approach removes the effects of childhood trauma


Did your childhood feel less than safe?
Did your childhood feel less than safe? Does it impact you to this day? Is it getting in the way of life in too many ways and you don't know what to do about it?
Are you struggling with any of these issues?
Feeling guilty and resentful
Feeling down or anxious
Feeling on guard and on alert
Feeling lonely and isolated
Finding it hard to relax in relationships, always expecting them to end
Feeling super sensitive to harsh words and criticism
Putting your own needs second so you keep missing out
Feelings of low self-worth and shame
Expecting good things to be taken away from you
Talking to yourself harshly
Feeling either panicky and agitated or numb and shut down.
Rest assured, I work with these kinds of problems every day and they can all be sorted.
These are all very typical ways that childhood trauma shows up in life, and they can all be sorted.
Author of How To Remove Trauma Response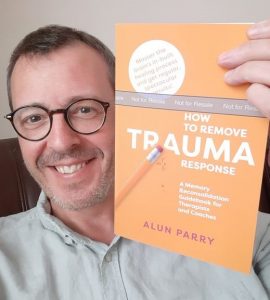 I am the author of How To Remove Trauma Response: A Memory Reconsolidation Guidebook For Therapists & Coaches which is available in paperback or on Kindle ebook.
If you want to work with the therapist who literally wrote the book on how to remove trauma response then book an online session with me here.
If you'd like to read the book and get a sense of how I approach issues connected to trauma and other blocks, you can order the book from Amazon here.
It is aimed at therapists but I have written it so any layperson can easily understand it.
Alun Parry Interviewed By Dr David Van Nuys, Emeritus Professor of Psychology for Shrink Rap Radio – How To Remove Trauma
Change Is Possible
I specialise in working with adults who still live with the effects of a painful childhood.
I have worked with so many people who faced these same struggles. They yearned for these issues to be overcome and for life to change.
Yet they feared that it wasn't possible.
Yet at the end of our work together, they emerged with their problem gone completely, never to return.
My 3 Step Trauma Removal System uses the very latest discoveries in neuroscience to remove limiting beliefs and problematic nervous system responses from your system.
Other approaches keep them intact and merely show you how to manage them better. My method gets rid of them forever.
Life-Changing Results
Here's what one client said, anonymised for that all-important confidentiality:
"I feel a lot more confident. I see things differently. I don't get stressed out all the time like I used to. I see things in a more positive way, not just the negative in everything."
Another described how life had changed for them as a result:
"I feel more confident, more mindful and happier. I would recommend him 100%. Al has helped me through severe anxiety. He is a genuine, honest and caring person. He has helped change my life. I will be forever grateful for the time I have spent with him."
Yet another said:
"I am now more proactive in choosing what I want to do and making it happen. I'm happier. Life feels less of a struggle. I'm making choices for me, instead of everyone else, which is what I wanted to achieve."
Why are they reporting such great results? Because trauma can be literally erased. My 3 Step Life Change System is specially designed to give the brain what it needs to get rid of trauma forever.

My 3 Step Trauma Removal System
Together, we will use this process to go through the 3 Step Trauma Removal System at your own pace. We will:
Outline the problem and what you want instead
Discover the old autopilot "trauma programming" that is getting in the way of change
Remove the old programming and replace it with the new, vibrant you
The change is permanent and effortless to maintain. No tiresome exercises for the rest of your life – but simply gone.
Step By Step
You can watch the video to have me walk you through the 3 steps of the process.
Easy To Book, For Your Convenience
If you want to get rid of the trauma that has been with you since childhood, you can book a session by clicking here. It's nice and easy to book. Simply find a date and time that suits you and book it there and then.
Personal Care, Problem Gone, No Risk
You deserve genuine personal care. I keep client numbers low and exclusive. This means that I am able to spend time thinking about you in between sessions and working on your issue. I spend hours on you, on top of the time we spend together.
You won't be kept in therapy for longer than you need. I don't follow the New York model of staying in therapy for years. The aim is to get the result you need so you can enjoy life fully.
At the end of our work, you will be rid of the problem. You won't need to manage it or keep working on it to keep it at bay. You've carried it around long enough. When our online trauma therapy is finished the problem will be gone.
No risk to you. If you're not totally happy that you picked me – you get your money back, no questions asked with my 100% Guarantee
The Results
This system works. It is mapped to the neuroscience of memory reconsolidation. The end result is that you remember the event, but it removes the trauma response and the distress. This discovery has proven beyond doubt that trauma, beliefs and nervous system responses can be literally erased.
My 3 Step Trauma Removal System is designed to follow the steps of this breakthrough, all without medication.
It is time to stop trying to cope with your problems – and instead, get rid of them for good.
Why I Can Help You
I am a registered psychotherapist and a member of the British Association for Counselling & Psychotherapy.
I use the latest discoveries in trauma-related neuroscience.
I train other therapists on how to remove trauma.
I am a sought-after therapist who has provided psychological services to the UK Government, John Moores University, and even international business concerns like Lush.
I am the author of the book, How To Remove Trauma Response: A Memory Reconsolidation Guide For Therapists.
What Is The Price?
Each session is £250. I'll say upfront that this is more than many other therapists charge. Yet looking at price per session can give a false comparison. Here's why:
I never rush you. But I don't follow the model of keeping you in therapy for years. I want your trauma sorted – and I have a plan to get there. Even if the price-per-session is lower elsewhere, it will cost more overall to be stuck in therapy for years.
The method I use removes trauma. That means no relapse. Many other approaches focus on managing trauma while keeping it intact. So you may need to keep returning for more help, at extra cost and distress to you. My approach means that once your problem is resolved, it is gone for good.
I offer a 100% guarantee – read the details here. I'm yet to encounter another therapist who offers such a guarantee. With me, there is no risk to you.
Let's Get Started
To start getting rid of your trauma, you can book a session by clicking here. It's nice and easy to book. Simply find a date and time that suits you and book it there and then.
Common Questions
How does therapy take place?
When you book your session, you will get an automatic email with a link to our Zoom meeting. Before our session, you will receive some helpful extra reminder emails to make sure you don't forget.
When it's time for our meeting, just open any of those emails, click the link and I'll be waiting for you and looking forward to seeing you.
What if I swear?
That's fine. People often swear during therapy. If it feels natural to swear, let it out. Feel free to be you. This is a swear-friendly zone.
What if I get upset?
You're more than allowed to get upset. I won't deliberately try to upset you. But it's natural to be upset from time to time. Know that it's okay if that happens. Therapy is a safe space for whatever comes up for you. Overall though, you'll find therapy a surprisingly positive and even enjoyable experience.
Am I too far gone to be helped?
No. The neuroscience is really clear on this. It doesn't matter how entrenched your problem seems, the trauma removal process works exactly the same way. To understand this better, check out the free video course Childhood Trauma: Gone For Good in the Resources menu.
Is my problem really worthy of therapy?
This is a common worry that can keep you from getting the help you need and deserve. You may tell yourself that others "have it worse" or went through more. You might even worry that I'd be upset with you for bringing such problems to therapy?
Let me reassure you. Nothing could be further from the truth.
It's really common to minimise your own struggles in this way. The trauma itself has taught you that you are not important enough and that others needs should have priority over yours.
The first step to breaking this cycle is to get the help you need and deserve.
What will be the outcome of successful therapy?
You will still know that you went through a bad experience. But it will no longer trigger you. You will have the same safe, untriggered response that you have with ordinary memories.
The trauma you have been carrying will be gone for good. It will not return. You won't have to put in any effort at keeping it at bay – there'll be nothing to keep at bay. Your system will have literally erased the trauma response completely.
The situations where your trauma was triggered in the past will now play out differently.
How will I know it has worked?
First of all, you'll know! Just like you'd know if you put down a heavy weight. Everything feels different. But we also monitor it together. The first step of my 3 Step Life Change System is to find out where your problem shows up, and describe how you would prefer it instead.
When those same situations show up in life, you'll notice that they no longer happen how they did, but how you want them to. Your nervous system responses will be different too – even things that you can't easily control, like blushing or sweating responses.
Whereas before your body would show signs of panic or shut down, those responses will simply be gone.
Why doesn't every therapist work this way?
The simple answer is that this breakthrough in neuroscience is so new that most therapists don't know about it yet. The few of us who know about it have switched to working this way because it is so transformational.
It's why I now train other therapists on how to do this. I want the word to spread more quickly so more people can get the benefits that this brings.
100% Guarantee – You Won't Regret It
If you're not totally happy that you picked me – you get your money back. That is how confident I am that I can help. Click here for the details of the 100% Guarantee.